Golf Stories
Best of Both Worlds
Posted On: Tuesday, May 14, 2019
Golfing and ocean cruising - all in the same week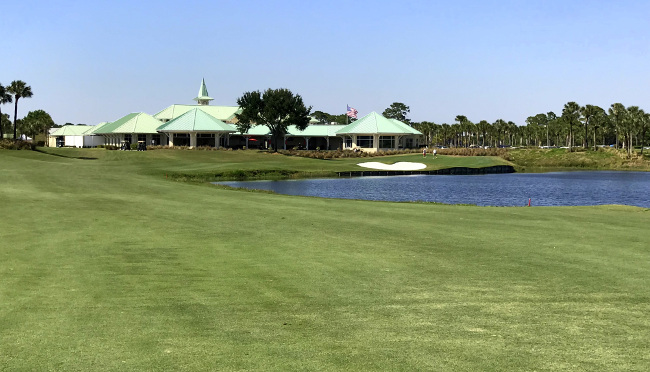 The 18th hole on the Wanamaker course at the PGA Golf Club in Port St. Lucie, Florida.

By Steve Harron
Publisher/Editor
Golf BruceGreySimcoe

As I teed it up at the spectacular Pete Dye course at PGA Golf Club in Florida it struck me how cool it was that less than 24 hours earlier I had been swimming in the crystal clear waters of The Bahamas, dancing with my wife in the moonlight on the deck of a cruise ship and enjoying a Las Vegas-style show.

This experience was made possible through a unique approach to a golf holiday - combining golf at the PGA Village in Port St. Lucie with a short ocean cruise to Freeport, Bahamas. The geography works well for this combo as Port St. Lucie is only a 45-minute drive from the Atlantic Coast port of Palm Beach where Bahamas Paradise Cruise Line operates two-night cruises to Freeport, Bahamas.

And Freeport is only 70 miles (112 kilometres) from Palm Beach so you can enjoy a slow cruise through the evening, on-ship entertainment and activity and wake up in The Bahamas. Two-night cruises are also available for Nassau, Bahamas.

It's a fantastic way to enjoy the best of both worlds. And with cruises starting at $69 U.S. per person, it's also a very affordable way to try cruising for the first time without the commitment of a week at sea. The cruise line operates two ships - The Grand Celebration and the Grand Classica - so there are plenty of dates to pick for your golf-cruising vacation.

The Classica, built in 1991 and refurbished in 2014, has capacity for 1,680 passengers. The Grand Celebration, built in 1986 and refurbished in 2014 and 2017, can carry 1,900 passengers.

Although smaller by today's standards, the ships still have the amenities you need for a two-day cruise. We cruised first before playing three rounds of golf at PGA Village but you could do it the other way around - and that could be your best option if you're like me and your body cries for a break and some R & R after three consecutive rounds.

But don't get me wrong. We still had a great time cruising first. And maybe the relaxing nature of the cruise actually helped my back and allowed me to play three days in a row without any issues (other than a terrible short game).

If you're thinking about this cruise/golf option here's what you can expect. You can board the ship around noon on the day of departure so you can take full advantage of the onboard activities even before departure around 5:30 p.m.

Our ship was the Grand Celebration and one thing that struck me right from the start was just how friendly and helpful the staff were. That really helped make the experience enjoyable.

And so did the onboard amenities, which include two swimming pools, three Jacuzzis, full-service spa and salon, fitness centre, casino, sports bar and 10 different dining options.

I can highly recommend the fine dining option after enjoying one of the best meals I've eaten in a long time as we sailed out to sea. The food and service were both outstanding and, with a spectacular view of the ocean, it was an unforgettable experience. It's an extra charge but it's sooo worth it!

After-dinner options include several lounges and the top-notch entertainment of a Vegas-style show in the 750-person Legends Grand Theatre. But you'll eventually want to grab some sleep because you'll be waking up in The Bahamas.

Our day in Freeport was the highlight of the trip, with the "Best of Grand Bahama Island" shore excursion giving us just the right amount of culture, sightseeing and relaxation. Stops included a souvenir and candle-making shop, the Rand Nature Centre National Park, Port Lucaya Marketplace and an exclusive Beach Club.

The beach experience was amazing with the beautiful white sand and calm and clear ocean creating a stunning setting.
It was hard to leave but when we did we had a few things to look forward to: more great food and entertainment on the ship.

It turned out to be a beautiful moonlit night and as we cruised out to sea with the lights of Freeport dotting the horizon we danced on the ship's upper deck. It was all kind of romantic!
Then it was off to another excellent night of entertainment in the Grand Theatre (a different show than the previous night). By morning we were back in Port Palm Beach and ready for our next adventure - three rounds of golf at PGA Village and two nights at the Hilton Garden Inn.
It was my first visit to the PGA Golf Club, which is operated by the PGA of America, and have to admit I was a little awestruck. The clubhouse alone is worth the trip, with a PGA Gallery showcasing iconic trophies and artifacts from the past 100 years. I could have wandered around the gallery for hours but we had 54 holes of golf to play in three days so I only got a glimpse of this "mini hall of fame."
In addition to three courses designed by the legendary Tom Fazio and Pete Dye, the club has a state-of-the-art 35-acre PGA Learning Centre which is open for public use.
It includes:
• More than 100 full-swing practice stations
• Five acres of private instruction & practice ground
• Dedicated pitching and chipping practice & instruction areas
• 7,000 square-feet of USGA-certified putting greens
• Discover Golf Course – a 3-hole teaching course
• A modern, full line equipped custom golf shop
• Equipment testing & fitting facility.

The first track we tackled was the Dye course, arguably the toughest of the three. It's highly playable from the right tees but you will get a real taste of what Dye is known for - risk/reward holes.

While there's generally lots of room off the tee, you will also see a lot of sand - 126 bunkers in total. Some of these are strategically-placed traps in the fairway, forcing you to think hard about your next shot. And many are waste bunkers running along the edge of the fairway, creating a dramatic look.
The cool thing about the design is you are given options, including some split fairways. And if you're smart and execute well, the course will not eat you for breakfast.

Next up was the Wanamaker course designed by Fazio. The course is named after Rodman Wanamaker, who in 1916 inspired the birth of the PGA of America. It could be the prettiest of the three courses with some holes that are downright breathtaking.

The par 3 sixth hole is a stunner with elevated tees, water surrounding the green and bunkers protecting the front and back of the green. The par 4 8th hole is another beauty with water down the left side and a massive bunker in front of the green.

And the par 4 18th is a great finishing hole, a dogleg right with a pond down the right side all the way to the green. It usually requires a shot over water to get to the green and that's always a fun little challenge to end your round.

The third course is another Fazio design called the Ryder, named after Ryder Cup founder Samuel Ryder. It has a Carolina feel to it with majestic pine trees and pine straw rough and is known as the friendliest course, although you could not tell that from looking at my scorecard.

This course also includes probably my favourite hole of all three courses - the 4th, a gorgeous par 5 that plays about 420 yards from the standard tees. It's a dogleg right with a large pond running all the way from in front of the tee box to the green. The more aggressive your line, the better your position for your second shot. And at 420 yards, a gutsy tee shot over the water could put you in position to get on in two. So much strategy, so much fun!

Altogether, the three courses provide a superb variety of golf holes. All three have been recognized on various "Top Courses in America" lists including Golf Digest's Top Public Courses in Florida. And the resort is rated by Golf Digest as one of the top 75 golf resorts in America.

The resort benefits from having incredibly friendly and accommodating staff who, among many other things, managed to keep smiles on their faces while rescuing our playing partners who mistakenly drove their power carts into the parking lot (the carts shut down automatically when this happens). For the record, we did the same thing but managed to get ourselves out of the predicament on our own.

Five properties are available for Stay and Play and one I can recommend based on personal experience is the Hilton Garden Inn, a beautiful facility just minutes from the PGA Golf Club.

The lobby is spectacular, the outdoor pool has the warmest water I've experienced in a swimming pool, and the Sam Snead restaurant is located on the premises and is loaded with golf memorabilia.

CLICK HERE For Stay and Play info
CLICK HERE For More Info on PGA Village

CLICK HERE For more on Bahamas Cruise