Golf Stories
Local golfers compete at Champs event
Posted On: Wednesday, May 15, 2019
Barrie golfer wins junior title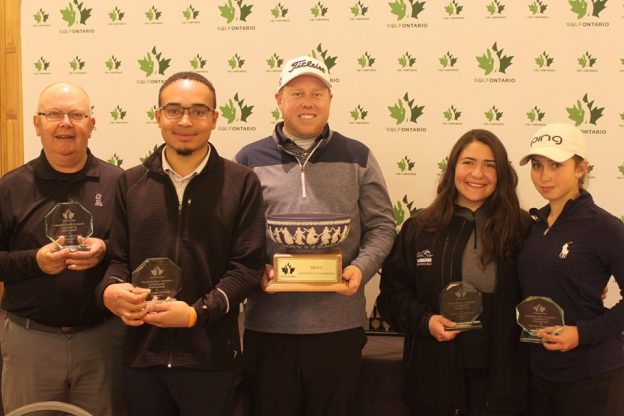 The winners from Tuesday's Ontario Champion of Champions event.

The Ontario Champion of Champions tournament was held Tuesday, May 14 at Spring Lakes Golf Club in Stouffville and among the winners was Michael Ikejiani of Barrie Country Club, second from left in the photo above.
He fired a 68 (-3) and finished three strokes ahead of Ryan McAskill of The Club at North Halton to claim the Junior Boys title.
The tournament, featuring 2018 club champions from across the province, included five other divisions: Senior Men's, Senior Women's, Men's, Women's and Junior Girls.
Other strong showings by golfers from the BruceGreySimcoe (BGS) region included a 4th place finish by Rachael Rier of Pike Lake Golf Centre in the Women's division and a 5th place finish by Kathie Houghton of the Georgian Bay Club in the Senior Women's division. Rier shot 83 and Houghton 88.
Sharon DeLorenzi of Mad River Golf Club shot 89 and finished T-6th in the Senior Women's event while Carol Smith of Legacy Ridge shot 100 and was 25th. Barb Bardswick of Cobble Beach shot 118 and finished 34th. The event was won by Sue Postian of Sunnindale GC in London who shot 80.
The Women's event was won by Crystina Kertsos of York Downs Golf and Country Club, who shot 73.
Other BGS participants in the Women's competition were Jackie Kavanagh of Vespra Hills, who shot 98 and was 20th and Susan Rooney of Midland Golf & CC who shot 104 and tied for 23rd.
Winner of the Junior Girls event was Ava Koukofikas of Cedar Brae with a 78.
In the Men's competition, Andrew Nagel of Barrie Country Club was tops among BGS golfers, carding a 75 and tying for 14th.
Other results from local golfers were:
T-19th Chris Frook of Cobble Beach Golf Links (76)
T-24th Jeffrey Ash of Tangle Creek G & CC (77)
T-24th Cameron Leitch of Midland G & CC (77)
T-41st Steve Knoch of OslerBrook G & CC (82)
T-45th Kurt Wilson of Blue Mountain G & CC (83)
T-45th Phil Carleton of Stone Tree Golf & Fitness (83)
T-49th Doug Painter of Mad River GC (84)
The winner was Chris Feenstra of Sunningdale GC who carded a 71 and won in a playoff over Zack Mason of the Donalda Club.
In the Senior Men's event, the winner was Lars Melander of Hidden Lake Golf Club. He shot 73 and won in a playoff over Allen Chapman of Lindsay G & CC.
Local golfers in Senior Men's event:
T-39th Greg Hotham of Barrie CC (82)
T-43rd Ken Dunlop of Saugeen GC (83)
T-53rd Hugh Fallon of OslerBrook G&CC (85)
T-53rd Dennis Kavanagh of Vespra Hills GC (85)
T-58th Richard Greer of Blue Mountain G&CC (86)
T-58th Michael Jackson of Georgian Bay Club (86)
72nd Peter Timmins of Mad River GC (95).