Golf Stories
McCulloch wins junior boys championship
Posted On: Tuesday, July 16, 2019
Sinks 35-foot eagle putt on final hole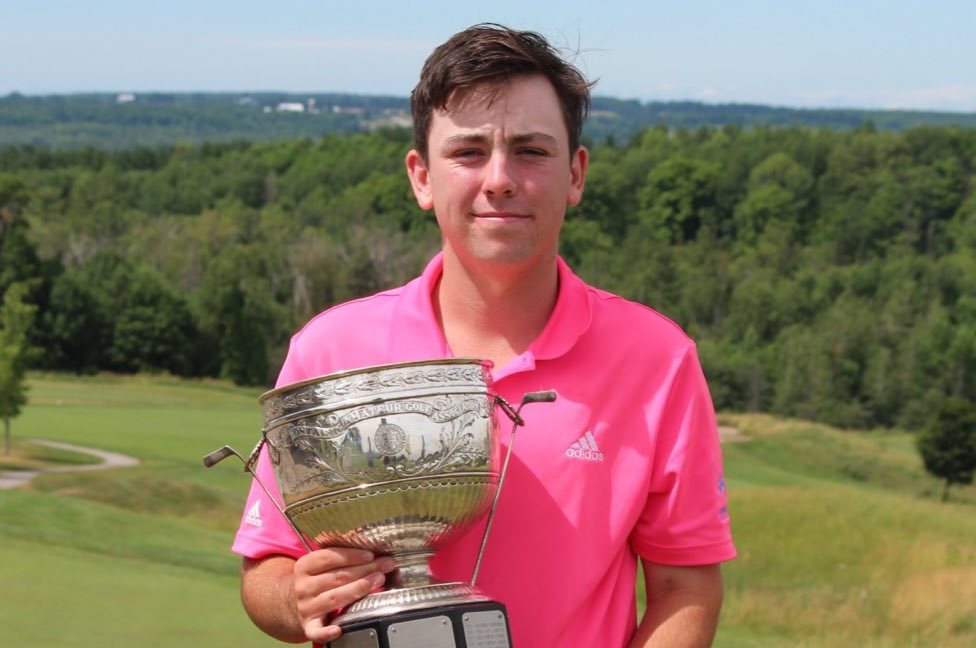 Ashton McCulloch of Cataraqui Golf and Country Club (in photo) drained a 35-foot eagle putt on the final hole to win the
the Ontario Junior Boys' Golf Championship at Tangle Creek Golf and Country Club near Barrie.
The eagle gave him a two-stroke victory over Dylan Henderson of Westmount Golf and Country Club.
The 17-year-old McCulloch shot rounds of 72-72-69-68 for a -7 total.
The top golfer from the BruceGreySimcoe region was Joe McNeil of Hawk Ridge Golf Club near Orillia, who shot rounds of 77-72-70-72 and finished tied for 16th.
Andre Zhu of National Pines Golf Club near Barrie shot 76-73-79-70 and tied for 24th while Michael Ikejiani of Barrie Country Club carded rounds of 79-75-72-73 and finished tied for 26th.
The only other golfer from BGS who made the cut - Jack Alward of Mad River Golf Club near Creemore - withdrew on Thursday after rounds of 79-75.

Narrowly missing the cut were Cade Preston of Barrie CC (77-78) and Eric Tae Kyoung Yun of National Pines (78-78). Preston missed by one stroke and Yun by two.
Also missing the cut were:
Lucas Ross, Midland Golf & CC (79-83)
Sean Tippin, Saugeen GC (82-83)
Kevin Lee, National Pines GC (81-89)
Ben Marshall, Tangle Creek (85-78)
Jacob Stoddart, Barrie CC (83-93)

For full results, CLICK HERE