Golf Stories
Pike Lake golfers shine on home course
Posted On: Wednesday, July 24, 2019
Win 3 of 4 divisions in junior tour event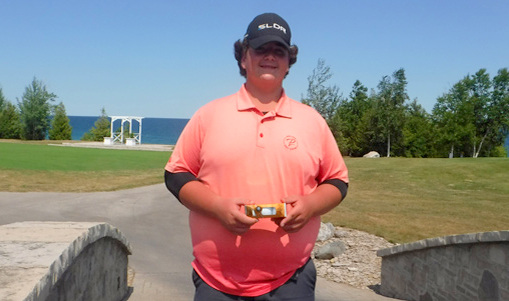 Landon Young after his win last season at Cobble Beach.

It was almost a clean sweep for Pike Lake golfers at their home course.
They combined to win three of the four divisions at the Grey Bruce Junior Tour event on Wednesday at the Mount Forest-area course.
Leading the way was Landon Young, who fired a sizzling 69 to win the overall and junior divisions.
He finished five strokes ahead of last year's overall champ - Sean Tippin of Saugeen Golf Club.
Fellow Pike Lake member Marc Salnek shot 82 and won the Juvenile division while Elizabeth Salnek carded a 92 and won the Girls division.
It was another double-win for the Salneks as Marc was the overall winner at the last event on July 9 at Scenic City and Elizabeth won the Girls Division.
The Bantam division, the only one not won by Pike Lake golfers, featured a tie for first between Legacy Ridge GC members Leighton Hurst and Austin Negus. They both shot 86.
The next stop on the tour is Aug. 1 at Saugeen Golf Club.
Click on document below for full results of the Pike Lake event.