Golf Stories
Four BGS teams qualify for championship
Posted On: Wednesday, August 14, 2019
At Senior Ryder Cup playoff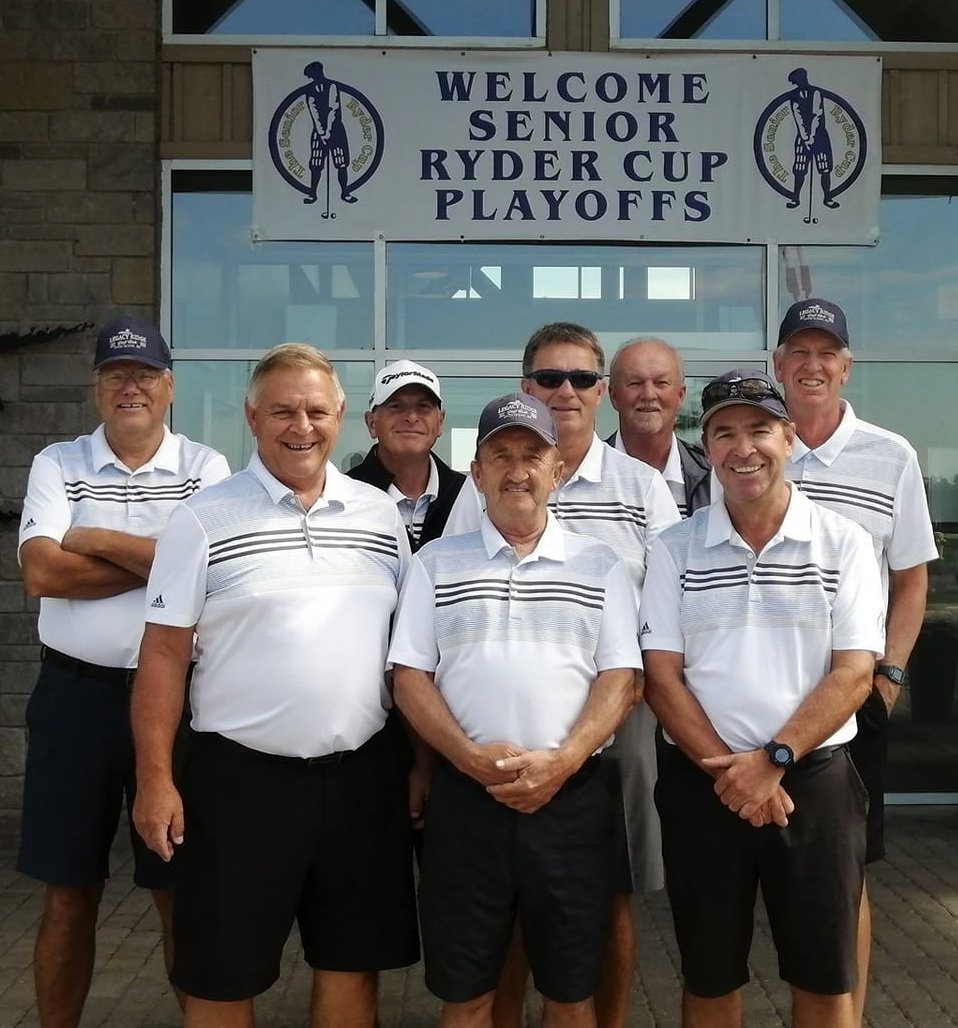 The Legacy Ridge Golf Club Senior Ryder Cup team. Front row from left, Mike Garvey, Roger Amyot, Bill Lewis. Back row, from left, Ed Grandman, Gord Kletzel, Steve Irving, Tom Hurley and Bill Corbett Jr.

Four teams from the BruceGreySimcoe region have qualified for the Senior Ryder Cup championship.
Legacy Ridge Golf Club, Saugeen Golf Club, Midland Golf and Country Club and Barrie Country Club all will be moving on to the Sept. 5 championship after taking the top spots in a playoff on Aug. 13 at Tangle Creek Golf and Country Club near Barrie.
Barrie Country Club, led by recently-crowned GAO Senior Men's Champion Dave Greenaway, finished in first place, earning 21 of a possible 24 points.
Perennial finalist Saugeen followed, earning 19 points. There was a two-way tie for third place between Midland Golf & Country Club and Legacy Ridge, with each earning 18 points.

The championship will be held at Devil's Pulpit Golf Association in Caledon.
The top two teams from each division in the Mideast qualified for the one-day playoff.
Below are the final regular-season standings in the Mideast.
MidEast
Ken Dunlop Division
Saugeen Golf Club 51
Legacy Ridge 43
Shelburne Golf & Country Club 36
Blue Mountain Golf & Country Club 14
Division I
Barrie Country Club 56
Vespra Hills Golf Club 43
Summit Golf Club 36
Caledon Woods 9
Division J
Tangle Creek Golf & CC 66
Harbourview Golf & CC 42
Oak Bay Golf Club 18
Shanty Bay Golf Club 18
Division O
Heritage Hills Golf Club 61
Borden Golf Club 29
Silverbrooke Golf Club 28
Muskoka Highlands Golf Links 26
Division P
Midland Golf & CC 62
Settlers` Ghost Golf Club 61
South Muskoka Curling & Golf Club 48
Bonaire 21
Division R
The Club at Bond Head 74
Lindsay Golf & Country Club 72
North Granite Ridge Golf Club 23
Simoro Golf Links 23
Division S
Pike Lake Golf Centre 63
BlackHorse Golf & Country Resort 52
Ainsdale Golf Course 40
Kincardine Golf Club 37
Division V
Brockville Country Club 63
Carleton Golf & Yacht Club 58
Smiths Falls Golf & Country Club 43
Perth Golf Club 28