Golf Stories
Ryan sets new course record
Posted On: Saturday, August 17, 2019
Wins pro division at Legacy Ridge Pro-Am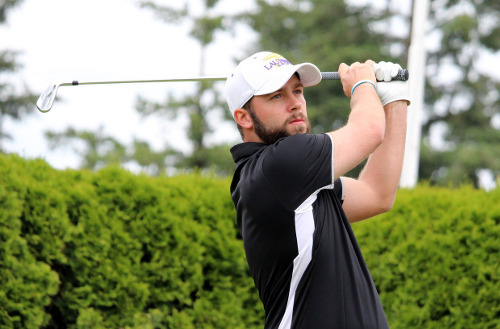 Austin Ryan in file photo from his days as captain of Wilfrid Laurier Golden Hawks golf team.

Former Owen Sound-area golfer Austin Ryan shot a competitive course record 63 (-8) on his way to winning the Pro Division of the Pro-Am at Legacy Ridge Golf - a club that has been around for 99 years.

Ryan was a two-time overall champion on the Grey Bruce Junior Golf Tour and went on to a stellar varsity career with the Wilfrid Laurier Golden Hawks which included winning the Ontario University Association individual championship in 2016.
He is currently working at Galt Country Club in Cambridge and playing on the Great Lakes Tour.
His team, which included former NHL goalie Curtis Sanford, Gary Sanford and Jason Playter, finished third in the team division of the Pro-Am.
The team division was won by pro Andrew Day of Whispering Hills Golf Club and amateurs Marc Brooks, Rick Burns and Dennis Beisiada.
The top teams and pros are listed below:

Legacy Ridge Pro-Am - Aug. 16
Pro Purse - Individual

1st Austin Ryan – 63*
2nd Ken Tarling - 66
3rd Michael Todd - 67
T-4th Andrew Day - 70
T-4th Chad Currie - 70
T-6th Adam Cherry - 71
T-6th Josiah Dixon – 71 (a)
8th Stephen Bardswick - 72
9th Ryan McBride - 73
T-10th Warren Thomas - 74
T-10th Dave Wettlaufer - 74

*New Competitive Course Record

Team

1st Andrew Day, Marc Brooks, Rick Burns, Dennis Beisiada (119)
2nd Chase Amyot, Roger Amyot, Derick Hare Jr., Derick Hare Sr. (124)
3rd Austin Ryan, Jason Playter, Gary Sanford, Curtis Sanford (126)
4th Ken Tarling, Jim Dinsmore, Jim Burlington, Ron Smith (126)