Golf Stories
Houghton ties for 12th
Posted On: Tuesday, August 20, 2019
In Super Senior division of national championship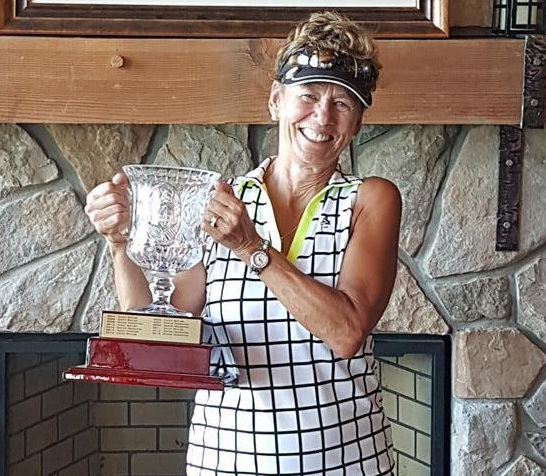 Kathie Houghton shown in file photo after winning a club championship at Georgian Bay Club.

Judith Kyrinis of Thornhill shot rounds of 72-73-72 and got the win and Kathie Houghton of Georgian Bay Club near Thornbury, Ontario was the top golfer from BruceGreySimcoe at the Canadian Women's Mid-Amateur and Senior Championship.
Houghton shot rounds of 81-80-82 and tied for 12th in the Super Senior Division (age 60 & over).
She also tied for 25th in the Mid-Masters (40 & over), tied for 27th in the Senior (50 & over) division and tied for 36th in the Mid-Am (25 & over) division.
Fellow GBC member Catherine Butler carded rounds of 85-83-91 and was 48th in the Mid-Master division, 60th in Mid-Am and tied for 67th in Seniors.
Saugeen Golf Club member Kimberley Legge shot rounds of 83-82-84 and was 39th in Seniors.
Kyrinis won the Mid-Amateur, Mid-Master and Senior titles. Jackie Little of Procter, B.C. won the Super Senior Championship.

The championship was played at Osoyoos Golf Club in British Columbia.
CLICK HERE for full results