Golf Stories
Barrie team ties for 3rd
Posted On: Friday, September 20, 2019
At Ontario Senior Men's Better Ball Championship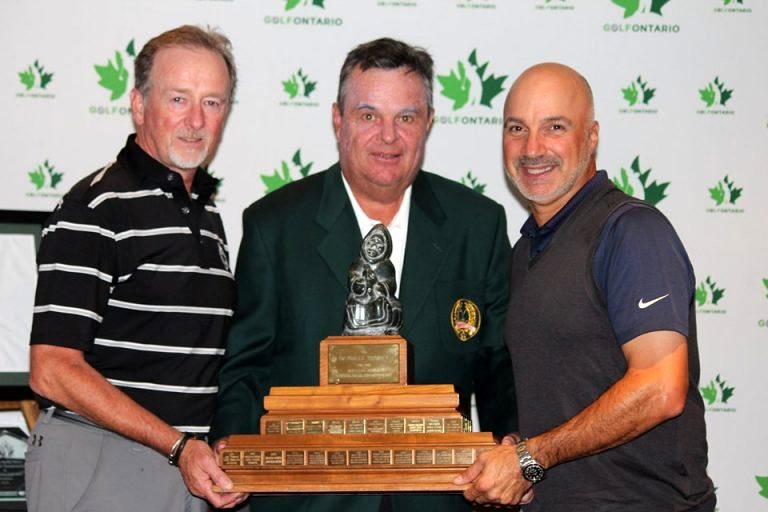 Bruno Ardito and Gary Parker of Brampton Golf Club (in photo above) got the win and Greg Hotham and David Greenaway of Barrie Country Club were the best among BruceGreySimcoe golfers at the Ontario Senior Men's Better Ball Championship.
The Ardito-Parker team shot 66 (-5) and won in a playoff over Dan Partland of the National Golf Club and Chris Kertsos of York Downs Golf and Country Club.
The winning shot was a 30-foot putt by Ardito on the 3rd payoff hole.
"If it weren't for my red-hot partner, this wouldn't have been possible," Ardito states in an article posted by Golf Ontario. "It's a great feeling winning at our home course, and we hope everyone had as much fun as we did."
Hotham and Greenaway were only one stroke back at 67, while a fellow Barrie CC team of Rob Garner and Brammer Long shot 69 and tied for 6th.
Other results from teams with BGS golfers were:
T-8th Len Timmerman, Kent Osborne, Vespra Hills GC (70)
T-31st John Danford, National Pines, Dan Coates, Vespra Hills (73)
T-46th David Johnson, Vespra Hills, Mark Davidson, Hawk Ridge G &CC (76)
T-46th John Murphy, Barrie CC, Doug McCann, Heritage Hills (76)
T-46th Stig Lassen, Saugeen GC, Ian Penney, Lookout Point CC (76)
T-51st Public player Gary Kirk, L.A. McDonald, The Nest GC (77)

The championship was played Sept. 19 at Brampton Golf Club.
For full results, CLICK HERE