Golf Stories
Rier 8th at nationals
Posted On: Saturday, October 19, 2019
Hanover golfer competing for Georgian College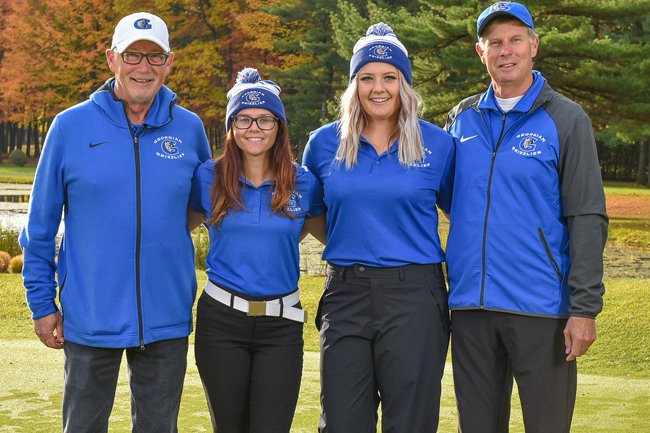 Georgian Grizzlies team: From left, Varsity Head Coach Greg Hickey, girls golf team members Kristen Butterfield and Rachael Rier and Girls Head Coach Bill Wogden.

Hanover, Ontario's Rachael Rier shot rounds of 79-77-85 and finished 8th at the Canadian Collegiate Athletic Association Golf Championships.
She was competing as a member of the Georgian College Grizzlies - a team she joined this year after completing two years on the golf team at Davenport University, an NCAA Division II school in Grand Rapids, Michigan.
Her teammate - Kristen Butterfield - tied for 16th after shooting rounds of 92-81-82.

The Georgian team finished 4th overall in the Canadian championship, which wrapped up Oct. 18 at Continental Golf Club northeast of Montreal, Quebec.

Varsity Head Coach Greg Hickey said he was very proud of the team and noted that Butterfield recorded two of her best rounds ever during the championship.
The individual women's winner was Elizabeth Labbe of Champlain St. Lawrence college in Quebec City. She shot 72-72-69 to help her team win the team division.
Also competing in the championships - on the men's side - was Walkerton's Blake Mackey, who earlier this month helped his team qualify for the Canadian championships by shooting 81-66-75 and finishing 8th at the Ontario Collegiate Athletic Association championship (his team was 2nd in that event).

In the CCAA championship, Mackey struggled the first two days - shooting 89-87 - but came back strong on the final day with a 76 (+4). He finished tied for 56th while his team was 5th out of the 11 teams competing.
The individual men's winner was Louis-Alexandre Jobin-Colgan of Champlain St. Lawrence who carded rounds of 71-75-70.
His Champlain St. Lawrence team also won the team division.

CLICK HERE for full results.